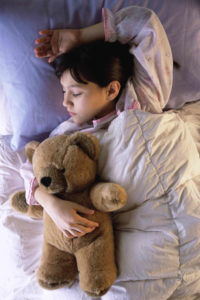 If your child struggles with autism or another sensory processing disorder, then you might have heard about how weighted blankets can help. But there is a surprisingly wide variety of weighted blankets, so there is a lot to consider to help you pick the right one. Here are some things you should know about weighted blankets.
Materials
The purpose of a weighted blanket is to create a calming effect by adding a slight amount of pressure. This is especially helpful for some children who have tactile sensitivities by using Deep Pressure Stimulation (DPS). But there are many different types of weighted blankets, so you want to make sure you find a good quality one, or it won't help at all. First, make sure that the fabric it's made of will be comfortable for your child, avoid anything scratchy like polyester, for example. Weighted blankets are usually filled with plastic pellets, but they can also contain glass or steel beads, and even rice. Make sure you know what is inside your weighted blanket, as well as the seams that hold it in place being strong.
How Heavy?
Of course, the actual weight of the blanket is its most important factor. Believe it or not, some can be as heavy as 25 pounds. You want to make sure that you get a weighted blanket that is just heavy enough to serve its purpose without being so heavy that it feels smothering on your child. Fortunately, there is a simple math trick that can help. Divide your child's weight by ten, then once you know what a tenth of your child's body weight is, then round it up by one or two pounds. If your child is about 85 pounds, then ten percent will be eight and a half pounds, which means the blanket should be no heavier than ten pounds.
The Connections Therapy Center
The Connections Therapy Center serves families of children and adolescents with disabilities and special needs. We are a team of experts in the fields of pediatric speech, occupational therapy, speech-language pathology, and behavioral sciences. As a team, we offer intensive hands-on therapy for children and adolescents, as well as informative and useful resources for families. If you are interested in learning more about what we can do to help your family, visit us online or give us a call at (301) 577-4333. Want to get more information on how to help your child thrive? Follow us on Facebook, Twitter, LinkedIn, and Pinterest.