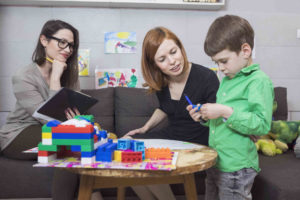 Chances are if your child regularly goes to therapy, then things might have changed over the past several weeks. And without those consistent therapy visits, the main concern is to make sure your child doesn't lose the ground they gained. Fortunately, there are a lot of ways that you can practice at home to help them maintain their progress.
Keep in Touch
Even if you haven't seen the therapist in person, it's important to keep them updated on how your child is doing. You might be able to set up telecommunication sessions or video calls in place of a visit to the office. Even though it's not the same, just a little bit of accountability can be enough to help encourage a child to keep working towards their goals.
Follow a Routine
It's easier than you think to maintain momentum as long as you have a structure, like a schedule or routine, to work from. Plan some exercises near when your child would have a therapy session so that they can follow their familiar schedule. It's alright to take breaks and enjoy the summer, but adding a simple routine will help your child's progress stay strong.
Creative Activities
Spending time at home means that you can take time to do quieter activities, like arts and crafts. These types of activities can be an incredible method to have a great time and help build confidence, attention, motor skills, sensory integration, and writing. Whether you want to make encouraging cards for loved ones and more, the only limit is your imagination.
The Connections Therapy Center
The Connections Therapy Center serves families of children and adolescents with disabilities and special needs. We are a team of experts in the fields of pediatric speech, occupational therapy, speech-language pathology, and behavioral sciences. As a team, we offer intensive hands-on therapy for children and adolescents, as well as informative and useful resources for families. If you are interested in learning more about what we can do to help your family, visit us online or give us a call at (301) 577-4333. Want to get more information on how to help your child thrive? Follow us on Facebook, Twitter, LinkedIn, and Pinterest.