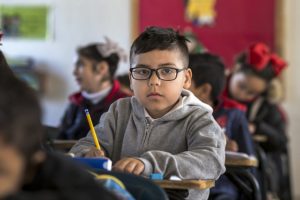 As you probably know, it's important for parents not to take their child's education for granted. By keeping up with what's going on in school and how your child is doing, you can make sure that they are learning in a way that helps them the best. There are many different learning styles, and every child learns a bit differently. By following these tips, you can help your child learn at the right pace for them.
Communication
The first step towards becoming involved in your child's education is to open up communication both with them and with their teachers. Make a point each day to talk with your child about school. Often when parents ask, "How was school today?" they get a very simple response, like "Good." It helps to ask specific, but open-ended questions, such as what their favorite subject was, or if they had a hard time understanding a topic. For teachers, it is best to try to arrange a one-on-one meeting to discuss your child's progress. You could try to meet monthly or once a quarter, or ask the school to give you a brief weekly progress report.
Advocacy
Another important element of playing a role in your child's education is becoming their advocate. Especially if your child has a special need, you should strongly consider starting them on an Individualized Education Program, or an IEP. Through an IEP, you and your child will work with your school and an educational advocate to make sure that your child is being treated fairly and receiving the type of education that they need. An educational advocate also helps your child from a legal perspective by making sure that their rights are being protected under the laws for children with disabilities.
Encouragement
Lastly and most importantly, you can help your child succeed by simply encouraging them. We all know how difficult, frustrating, and stressful school can sometimes be. But if you stay positive, it will help your child learn to appreciate that their hard work is worth it. Make sure that you always emphasize their strengths and praise them when they do well.
The Connections Therapy Center
The Connections Therapy Center serves families of children and adolescents with disabilities and special needs. We are a team of experts in the fields of pediatric speech, occupational therapy, speech-language pathology, and behavioral sciences. As a team, we offer intensive hands-on therapy for children and adolescents, as well as informative and useful resources for families. If you are interested in learning more about what we can do to help your family, visit us online or give us a call at (202) 561-1110 (Washington, D.C. office) or (301) 577-4333 (Lanham office). Want to get more information on how to help your child thrive? Follow us on Facebook, Twitter, LinkedIn, and Pinterest.